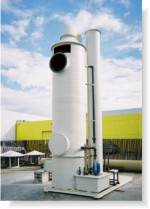 Using water as a scrubbing media, fume scrubbers can remove particulates, acid and caustic mist out of the influent air stream. With the addition of other reactive chemicals adsorption scrubbers can neutralize the inlet contaminates such as hydrochloric acid gasses, ammonia and odors. The scrubber is the primary pollution control component of your ventilation system.
Vertical Scrubbers are commonly used as adsorption scrubbers where the removal efficiency require packing depths in excess of six feet such as NOx, or SOx due to their theoretical unlimited packing depth capability. Whereas Horizontal Scrubbers provide a lower profile and are ideal for roof-mounted arrangements.
AirChem Scrubbers Associated Components
Integral liquid reservoir and clear well pump deck
Recirculation manifold with PVC or CPVC pump(s), flow meter and throttling gate valve to control the liquid flow rate and liquid distribution header
City water fill manifold with float valve to maintain liquid level
Blow down manifold to provide a continuous bleed-off of solution to prevent the saturation of the recirculation liquid by the contaminants and chemical additives
2" threaded drain and overflow fittings
Packing
Packing support grating
Demister
Hold down lugs
Inspection hatches
Low level switch for pump protection
Optional Equipment:
Common steel skids (horizontal units only)
Chemical feed system to include pH or pH and ORP sensor(s), inline sensor manifold, controller(s), and chemical feed manifold(s)
Chemical feed pump(s)
Chemical day tanks(s)
NEMA 4X electrical control panel with motor starters and controls
Magnehelic or photohelic gages
Flanged inlet and outlet fitting
Click below for Horizontal Scrubbers and Vertical Scrubbers additional information (PDF).