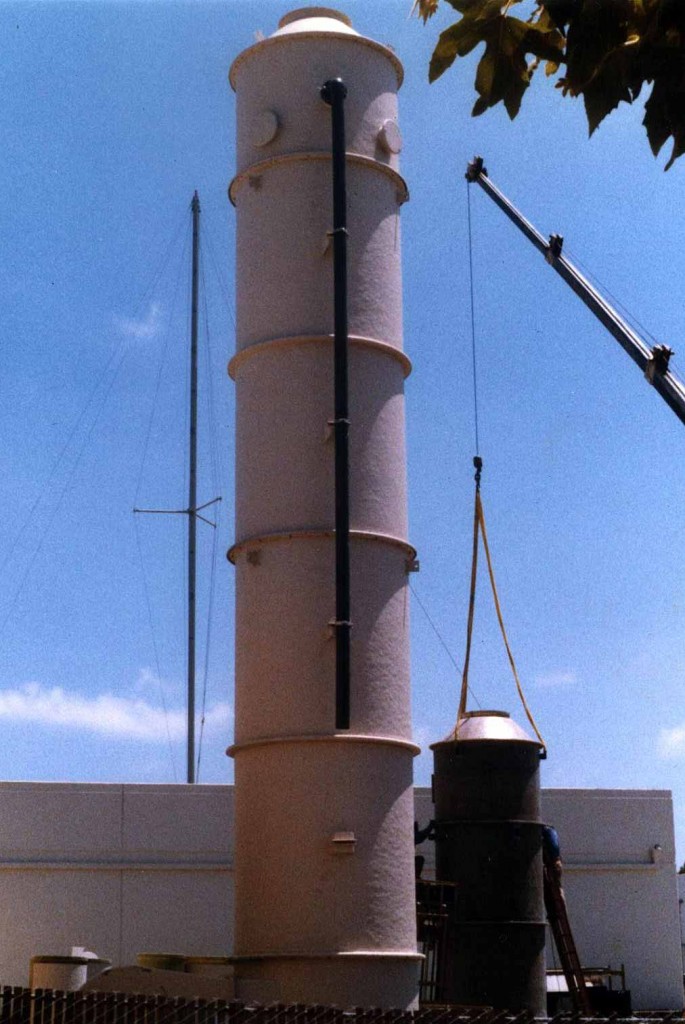 Air Strippers are a cost effective method for remediating contaminated groundwater by transferring volatile organic compounds (VOC) from the liquid phase to the vapor phase. In many cases, stripping efficiencies to non-detect levels can be achieved.
The efficiency of air stripping processes is strongly depend on temperature; therefore, careful and detail design of the system optimized to the coldest expected water temperature is required.
For constant liquid flow rates, the distribution manifold will utilize 120-degree full cone spray nozzles or a perforated manifold. When systems are operated with fluctuating liquid flow rates the distribution manifold will be either a perforated manifold or distribution trays to provide even distribution over the range of design flows.  In some cases it will be desirable to adjust the airflow to compensate for these fluctuations.
AirChem Air Strippers Associated Component
Perforated pipe or nozzle arrangement liquid distribution manifold for fixed flow rates or perforated pipe or distribution trays for variable flow rates.
Liquid supply riser
Flanged air inlets
Air inlet filters and screens
Hold down lugs
Lifting and/or guy wire lugs
Packing support grating and beams
Packing
Demister
Access hatches
Drain
Optional Equipment:
Magnehelic or photohelic gauges (packing and demister)
Flanged outlet